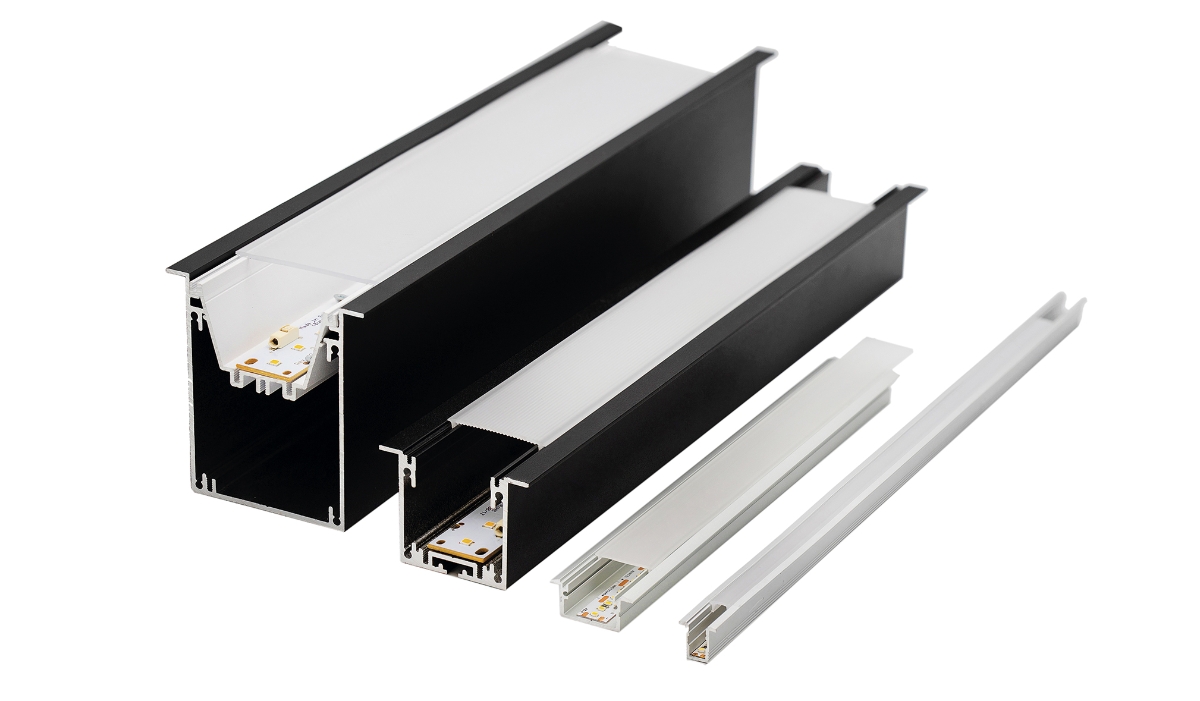 Linear lighting is becoming more and more popular and this is basically due to various advantages regarding focused lighting, for example a more homogeneous illumination (as the light is continuous), an easier and faster installation (we can light up a hotel reception area with just one luminaire at 6m and with one power point) There are numerous options to choose from (recessed or hanging luminaires, symmetric and asymmetric optics, normal covers or microprism, Black&White , etc).
We mustn't forget that to manufacture a good luminaire, we must use the adequate profile and that's when we must consider many factors.
How to choose the correct profile size for a linear lighting project?
The profile size is very important because it will determine which type of led we can use. When it comes to small profiles, we normally use low or middle power flexible strips because the size of the profile, as well as its heat dissipation will not permit any higher. The middle size profiles allow us to use high power flexible strips in addition to rigid led strips which usually operate at constant current (unlike flexible strips, which work at constant voltage). Most of the large profiles allow us to place the power supply, driver and emergency kit inside, making installation easier. Small sized profiles allow us use strips directly at 230V, so there is no need for a power supply (driver). However, this led strip is generally not used due to the poor quality of all the models from the market).
How to choose the correct type of cover?
Another important factor to take into consideration is the type of cover. This will determine usage and luminosity performance of our luminaire. We can use trellis type (for large profiles), white translucent covers (with a 25-50% luminance loss), transparent covers (circumstances for indirect light where glare and dotting are not an issue), a microprism cover to achieve lower UGR levels, an optic cover which allows us to conveniently direct the light or a Black&Whie cover. This option allows the luminaire to blend in with its surroundings, when it is off and is barely seen, yet when turned on, suddenly brings the room to life.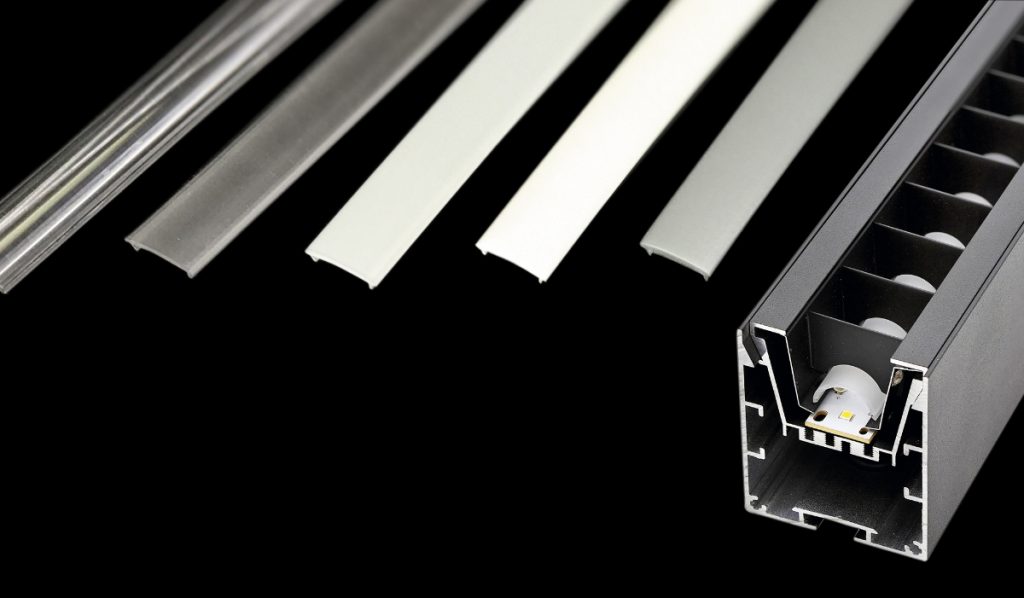 There are also special and technical covers which allow us to change the colour of the led strip. Another interesting option is the cover with a high level of IK (Impact Protection Rating), which are treadable (led profiles for floor).
The external finishing of the profile is also important, since it has both aesthetic and functional roles. We can find lacquered profiles on the market (the black and white versions are usually the standard profiles) or anodised profiles (silver and black are the most common). While lacquered profiles are slightly more resistant to friction (especially the textured ones), anodised profiles (controlled oxidation) enable a faster thermal dissipation, which is very important for small profiles, where dissipation in a fundamental issue. Black anodised offers the highest rate of thermal dissipation.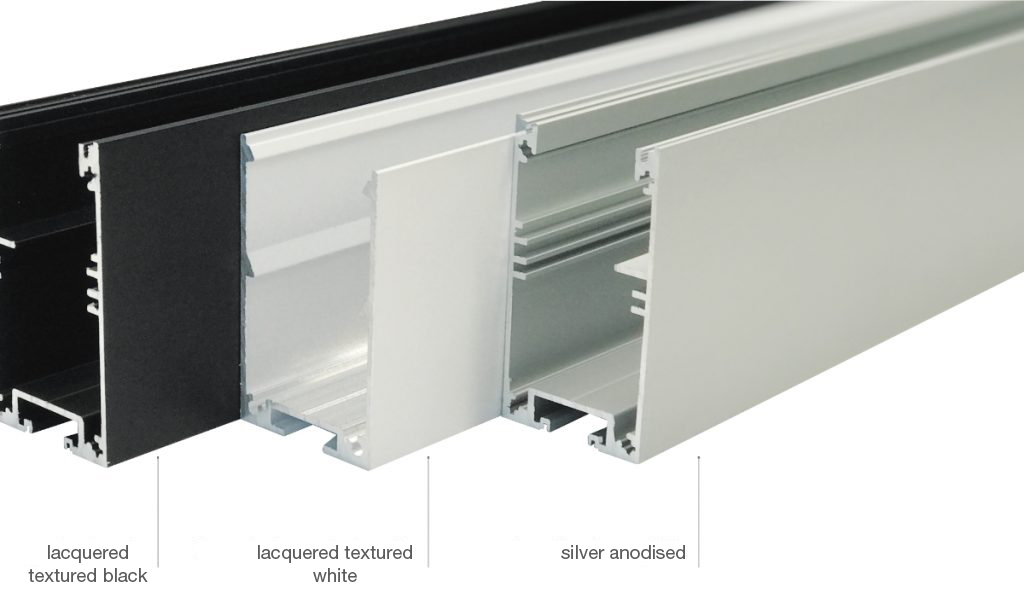 The morphology of the profile is also important because the shape determines the different applications where we can use the profile. The trimmed profiles are the most suitable for recessing in ceilings, walls and floors. The trims can also be found throughout the perimeter of the profile and are designed to enhance thermal dissipation as they work like radiators (in order to achieve the right convection, both the size and the separation between trims must be appropriate, otherwise the airflow will not take place).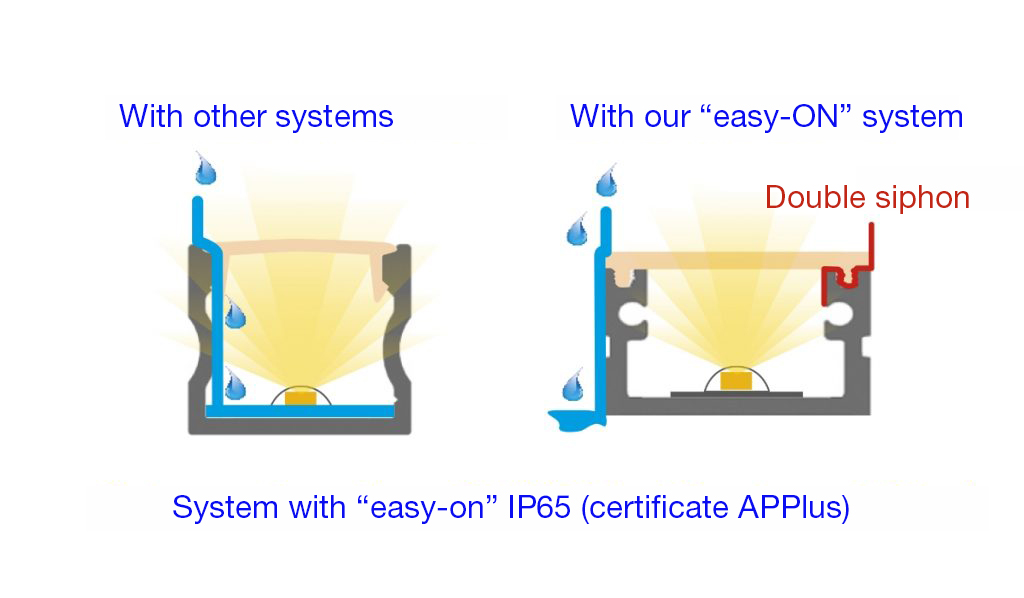 In some of our large profiles we offer a front extractable tray, which is ideal for easy maintenance and installation and also the length is something important to consider. This will determine whether or not we can manufacture the luminaire in one piece, without any joining accessories (the light frequently seeps through the joints).
What is the maximum length we can use with an aluminium profile?
In the market there are profiles of up to 6 metres. These profiles are not convenient for being transported, but they allow us to achieve exceptional finishings for one single piece luminaires of big dimensions. The morphology of the profile also permits to cover other issues, such as the way of placing the led inside the profile while illuminating asymmetrically, the types of profile equipped with covers with high ratings of IP protection (waterproof), which is something necessary not only for outdoors, but also indoors installations where there are humid areas (or similar areas with high levels of condensation, such as kitchens, bathrooms, refrigerating chambers, gyms, spas, etc)
Which materials are used to manufacture the profiles for strips and LED modules?
The prime material of the profile.
Although most profiles are made of aluminium, some are made of steel, polyurethane and silicone.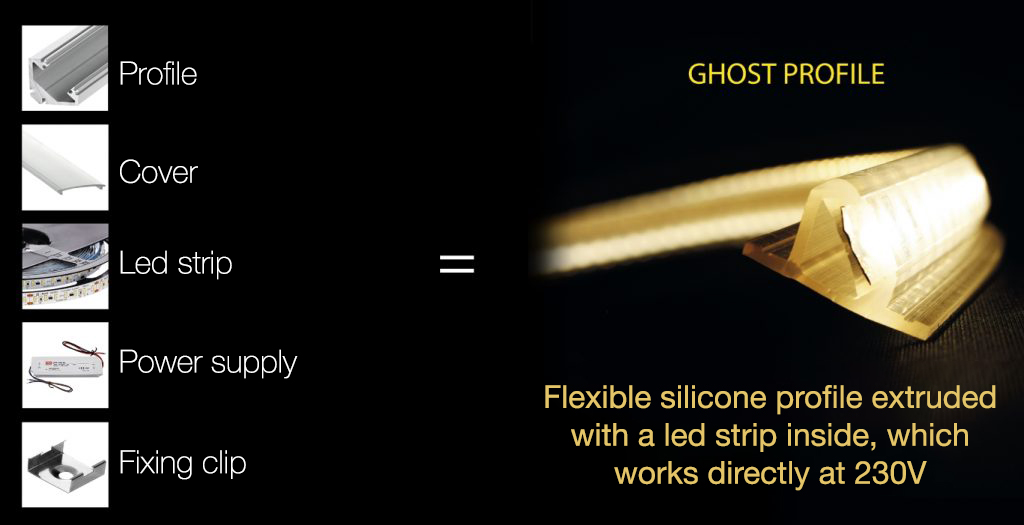 The aluminium profiles can be manufactured with different levels of purity (more than 95% is recommended, especially when the profile is going to be anodised, since aluminium with a high recovery rate can be left with marks on its surface.)
The aluminium alloy and its treatment (T4-T5) will also affect the hardness depending on whether the material will be bent afterwards or is only going to be manipulated in a straight line. Lately, silicone led profiles are "coming out of the dark" and are being used in more and more installations (neon effect). These profiles allow us to carry out installations where lighting has to adapt to the shapes and architectural requirements of the room (obviously, we will always use flexible led strips in this case)
There are no better or worse profiles. Each profile will be determined, depending on the needs at that time.
Nuño Téllez
CEO Luz Negra