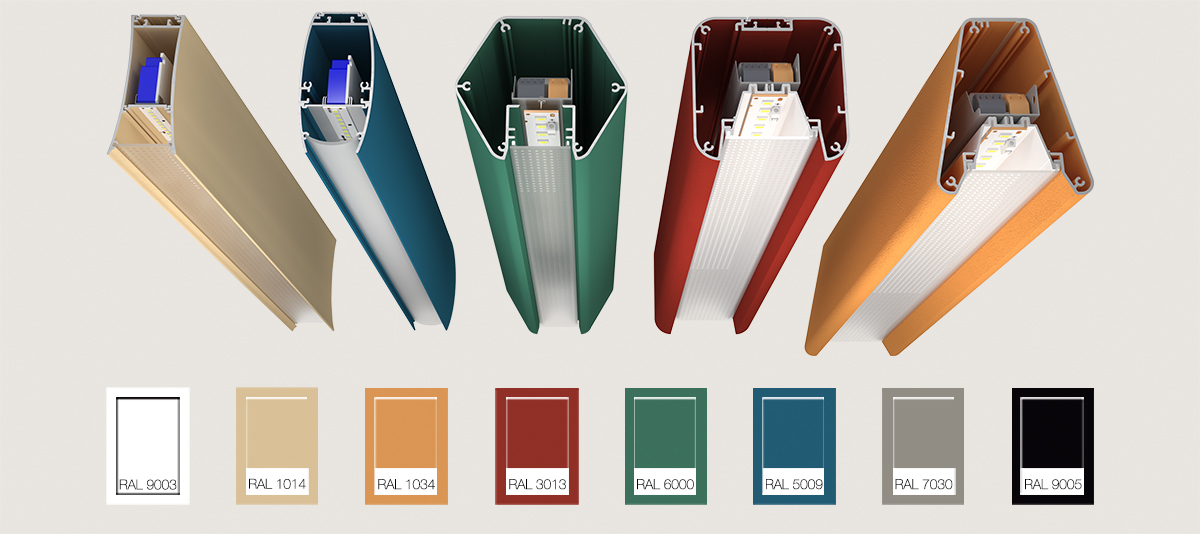 Here at Luz Negra we have been designing and manufacturing aluminum profiles for LED linear lighting for more than 15 years, with the aim of offering good technical lighting with the best possible light output. Currently, we have 38 models of large profiles for hanging, surface or recessing which all have the conventional square, rectangular, circular, etc shapes. These types of luminaires carry out a more basic function in lighting up a space and less attention is given to the creative and artistic part.
We have designed a collection of 5 new profiles which will be launched soon in our new brand of NEOLIGHT luminaires. Here we wanted to play with different geometrical shapes (concave, convex, hexagonal, etc.) and at the same time introduce a palette of very fashionable and vibrant colours. Unlike our previous profiles, these new models will not only play the part of a technical luminaire, but at the same time become a beautiful decorative feature in any space.
As this collection is 100% designed and manufactured in Spain, we liked the idea of giving Spanish names to the profiles such as Lola, Paco, Antonio and Carmen with the exception of Ricardo, which we thought would be a nice gesture towards our founder Ricardo Téllez.
These new profiles are now in stock and available in 8 different colours and with such a wide range of options, will bring to life any space. In addition, all of them have a microprism, indented cover, meaning lower UGR levels. This new collection of profiles can now be supplied as loose material but soon will be a possibility as a manufactured luminaire within the NEOLIGHT collection. We are looking forward to launching our new NEOLIGHT range in Light&Building in Frankfurt in October.